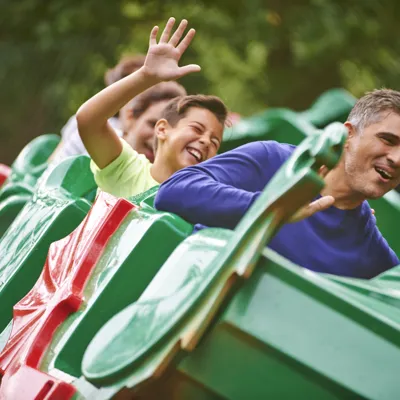 Visit again and again!
An Annual Pass is the best way to visit the LEGOLAND Windsor Resort again and again.
Our LEGOLAND Annual Passes offer great benefits and are fantastic value with prices starting from £49. Plus, buy before 23rd March and save £30 on selected passes.
Want to experience even more fun? Try a Merlin Annual Pass which gives you a year's entry to 30 of the UK's top attractions!
LEGOLAND® Adult & Toddler Pass
The LEGOLAND® Adult & Toddler Pass is perfect for younger families to enjoy the Resort on off peak days. Buy a pass for your toddler under 90cm in height and they can visit with any adult, be it parent, grandparent, childminder or family friend!
LEGOLAND® Standard Annual Pass

LEGOLAND® Premium Annual Pass

Merlin Standard Annual Pass

Premium Merlin Annual Pass

LEGOLAND Windsor Off-Peak Access


LEGOLAND Windsor Off-Peak Access


LEGOLAND Windsor Peak Access


LEGOLAND Windsor Peak Access


LEGOLAND Windsor Super Peak Access*
*Excluding Fridays, Saturdays and Sundays in August for Standard Merlin Annual Passholders

LEGOLAND Windsor Super Peak Access*
*Excluding Fridays, Saturdays and Sundays in August for Standard Merlin Annual Passholders

Free Car Parking


Free Car Parking


Exclusive Discounted Parking Rate


Exclusive Discounted Parking Rate


20% off in Food & Beverage


20% off in Food & Beverage


10% off in Retail Shops


10% off in Retail Shops


Entry to over 30 of the UK's top attractions*
* Some exclusions apply to the Standard Merlin Annual Pass

Entry to over 30 of the UK's top attractions*
* Some exclusions apply to the Standard Merlin Annual Pass

Free Parking at UK Resort Theme Parks


Free Parking at UK Resort Theme Parks


Discounted entry to special events
Including Brick Week, Fireworks Spectacular and LEGOLAND at Christmas

Discounted entry to special events
Including Brick Week, Fireworks Spectacular and LEGOLAND at Christmas

Discounted LEGOLAND Hotel stays


Discounted LEGOLAND Hotel stays


Exclusive booking discounts for Merlin Hotels


Exclusive booking discounts for Merlin Hotels


Up to 20% off dining and shopping at Merlin attractions


Up to 20% off dining and shopping at Merlin attractions


Exclusive Privilege Pack


Exclusive Privilege Pack