Extra LEGO® Goodies
Buy your LEGOLAND® Face Mask ready for your visit to the Resort, plus find out about Mosaic Maker, one of only 2 in the UK!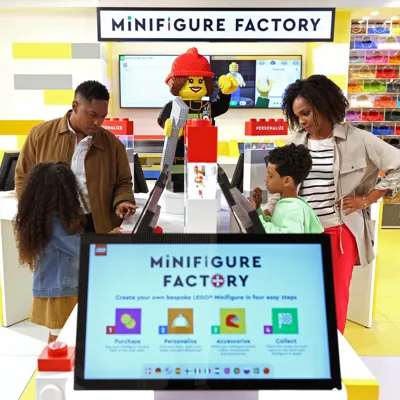 LEGO® Minifigure Factory
Create your very own custom LEGO Minifigure at the LEGO Store from just £11.99 per person!
Pick any legs, head, hair or hat and accessory, then design your own personalised torso to create an awesome Minifigure totally unique to you.
LEGO Mosaic Maker
Ever imagined what your face would look like made out of LEGO bricks? Then it's time to experience the amazing LEGO Mosaic Maker at the LEGOLAND® Windsor Resort, one of only 2 in the UK!
ScooterBug Rental
You can now pre-book your ScooterBug hire online to guarantee your rental! Book online today and collect on the day of your visit from The LEGO® Store in The Beginning.
Just £10 per day for a single and £15 for a double per day.