Pirate Falls: Treasure Quest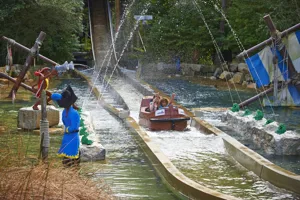 Ahoy maties!
Get ready to join our pirates' swashbuckling quest for treasure with Captain Blackheart.
Watch out for the pirates' pesky helpers who will try to soak you!
There's only one way down these uncharted waters...with a big scream and an even bigger splash!
Have you tried our NEW in-queue line games yet? They're fun for all the family! Available at Flight of the Sky Lion, LEGO® City Deep Sea Adventure, Mia's Riding Adventure and Pirate Falls: Treasure Quest.
Book Now
Build Your Day...
Pirate Falls: Treasure Quest is located in Pirate Shores
You must be a minimum of 1m to ride
You must be a minimum of 1.3m to ride without being accompanied by a responsible person at least 16 years of age
Guests are required to hold themselves upright without the assistance of a guardian or carer
Guests are required to hold on to handles, lap bars or handrails and brace against brute forces
Prepare to make a splash! Riders will get wet
This ride contains strobe and flashing lights
Each boat accommodates up to 5 guests. There is a minimum of 2 adults per boat
Please note, this ride is unable to accommodate single riders due to the ride's restrictions and social distancing measures in place
This ride is not recommended for guests with; back & neck problems, heart conditions, high blood pressure, broken limbs or guests who are pregnant
Due to a moving turntable guests must be able to get on and off the ride in 30 seconds as the ride cannot be stopped
Reserve & Ride is available for this ride