Junior Model Maker For The Day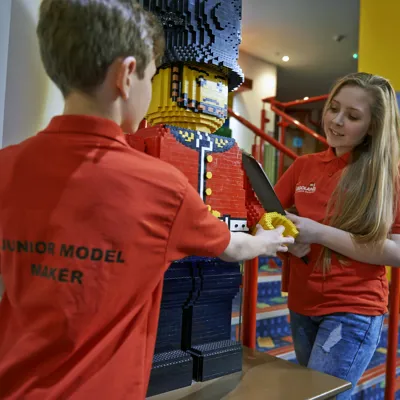 Be a Model Maker for the Day!
For a truly unique experience why not enjoy a day with one of our Master Builders and spend time shadowing them as they carry out checks, work on exciting new projects & bring LEGOLAND® to life!
You'll start your day with a scrumptious buffet breakfast and then be whisked into the park before it opens to anyone else to check the models in NINJAGO World! We'll give you your very own LEGOLAND® uniform to wear to make sure everyone knows you're part of the team (yours to keep) and you'll get to access exclusive behind the scenes areas never before seen by visitors. You'll feel like a giant getting to be one of only a handful of people to actually stand amongst the models in Miniland repairing the animations and models within it.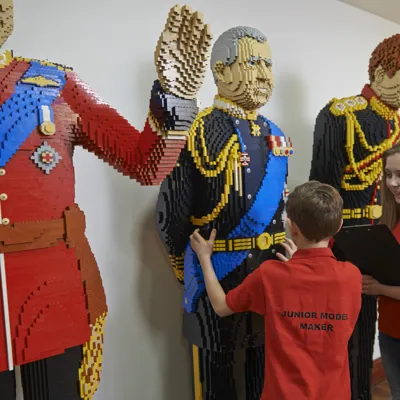 You'll even get to be the first rider of the day on one of the rides. Our Master Builder will help you construct your very own figure of yourself for you to take home and show all of your friends! The building doesn't stop there, you'll be shown how to build your own themed model and see some of the techniques used to design our models from around the world. A buffet lunch awaits you, before you're reunited with your adult at the end of your experience (open days only).
This experience is suitable for ages 7-15 only; no grown-ups allowed! 
Frequently Asked Questions
How much is the Experience?
The Experience is £250 per child.


How long is the Experience?
It runs from 08:30-14:00, a responsible adult must be available to collect the participant at the end of the experience. They should also remain contactable throughout. 


How many people can take part?
The experience runs with a minimum of two (2) and maximum of four (4) participants per session. On peak dates multiple sessions may run simultaneously to ensure we can offer this popular experience to as many guests as possible.


Is there Annual Pass discount available?
Due to the exclusive nature of the experience there is currently no further discount on the price.


Do you run sessions for guests with additional needs?
Yes, our additional needs sessions are designed for guests who may require extra or specialist assistance from a carer to allow them to get the most from the experience. The experience involves an element of sustained concentration in order to build, check and interact with the models on park in a safe manner. All guests must also be able to reliably follow basic instructions given to them for their safety and that of others. Our team are expertly trained and we have Master Builders with an enhanced level of disability awareness, however, as there is such a wide ranging scope of disabilities it is the carer's responsibility to ensure the child's suitability for this experience. Please note this experience may not be suitable for guests with a physical disability due to areas with uneven terrain and narrow routes through model areas; please contact the team for further information. 
Contact modelmaker@legoland.co.uk

Can I stay and explore LEGOLAND whilst my child is taking part?
Of course! Every individual (excluding the child on the experience) will need a valid form of entrance to the park. Pre-book your tickets online to save money and time. Please note that you cannot spectate whilst your child is taking part – it's more fun with no grown-ups! 

Who are the Master Builders running the experience?
Our Master Builders are specialist members of the team who have spent over 30 hours training with LEGO Master Model Builders. They are also first aid trained individuals with an extensive background of guest service and care.