After a wonderfully sweet treat? Enter Wizard's Frozen Wonders and use your magical spells to create your own enchanted dessert!
Theme Park, Knights' Kingdom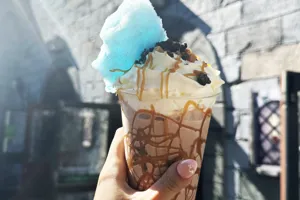 Fancy something sweet?
Visit Wizard's Frozen Wonders and use your best magic spells to conjour up your own unique dessert. Start off with selecting your yummy base, add your special ingredients, sprinkle on your chosen toppings and enjoy!
Wizard's Frozen Wonders offers a wide variety of 'build your own' dessert options, as well as ice creams, coffee and cupcakes. Sit inside and enjoy your magical dessert within the Wizard's Castle walls!