Buy One Get One Free with Capri Sun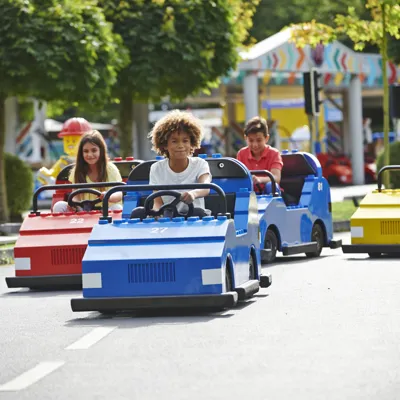 Buy One Get One Free with Capri Sun!
Whether you are earning your very first driving licence behind the wheel of a LEGO® car at the LEGO City Driving School, riding a Dragon through a medieval castle or discovering the lost metropolis of Atlantis in a Submarine – the LEGOLAND® Windsor Resort has something for the whole family.
Plus experience LEGO MYTHICA: World of Mythical Creatures, an exhilarating world featuring 3 incredible rides, including Flight of the Sky Lion – the UK's first flying theatre ride! New for 2022, explore The Magical Forest and discover the LEGO creatures that dwell within this mysterious woodland.
Or, visit the LEGOLAND Discovery Centre either at Manchester or Birmingham for the ultimate indoor LEGO Playground! Each location offers an inspirational and unique day out for all the family!
Use your Capri Sun voucher to book your Buy One Get One Free offer to visit LEGOLAND Windsor Resort, LEGOLAND Discovery Centre Birmingham or LEGOLAND Discovery Centre Manchester today!
This offer gives one free Adult or Child entry ticket with the purchase of one full "On The Day" * priced Adult ticket until 31.12.22 at The LEGOLAND® Windsor Resort and LEGOLAND® Discovery Centres (Birmingham and Manchester). Some exclusion dates apply and pre-booking online is essential.
If the holder of the voucher redeems the Voucher, he/she agrees to be unconditionally bound by these terms and conditions:
If the holder of the Voucher buys a fully priced Adult entrance ticket to the LEGOLAND® Windsor Resort ("Attraction") then he/she may take with him/her one other Child who will enter the same Attraction on the same day free of charge.
The Voucher can only be redeemed where the holder pays the full Adult ticket price (without any concessions or discounts) as stated on legoland.co.uk
The offer is based on the full "gate" (also referred to as "on the door"/ "on the day" / "On the gate") priced ticket at the attraction. Such prices are subject to change.
The Voucher has no cash value and is automatically void if sold, offered for sale or if any attempt or offer is made to transfer the Voucher for value.
This Voucher is valid for visits to the Attraction from 14 April 2021 UNTIL 31 October 2022, subject to the excluded dates set out in paragraph 8, and the start and end of season dates stated in paragraph 11. Please note that the LEGOLAND Windsor Resort is only open on certain dates/periods of time during the year.
Multiple Vouchers can be utilised in one transaction, with a qualifying adult purchase, one Kids go Free discount will apply per ticket, per Voucher.
This offer cannot be used in conjunction with any other promotion or offer and the voucher must be presented on the date of visit with your pre-booked e-ticket. Only one free entry per promotional pack. Ticket availability restrictions apply, early booking is recommended.
The promotion allows you to visit the LEGOLAND Windsor Resort on any day in the year bar the following exclusion dates;
1st - 2nd May 2022
2nd - 5th June 2022
28th - 29th August 2022
29th - 31st October 2022
4th - 6th November 2022 plus the whole of the LEGOLAND at Christmas event.
THIS PROMOTIONAL OFFER CAN ONLY BE REDEEMED:
The offer is only valid when booked online using a participating Capri Sun product. You must retain your original pack voucher to present on the day of your visit. Failure to present and surrender the original hard copy voucher to admissions upon arrival at the attraction will result in an additional charge for one full priced standard admission for the second ticket issued. Cut out vouchers cannot be presented on electronic devices and photocopies will not be accepted. The availability of voucher redemption on the day without a pre-booked ticket is not guaranteed.

Tickets can be purchased online on the day of visit. Please note, there us a delay of up to 2 hours for your ticket confirmation to be emailed to you after completing your online booking, you must have a valid ticket confirmation email in order to enter the attraction.
The start and end of season dates are set out in the operating calendars on the attraction's website (details of these are in paragraph 22).
Check opening dates and times before you visit at legoland.co.uk.
The Voucher is not valid at Secondary Attractions and events including, but not limited to, Brick Week, Fireworks and LEGOLAND® at Christmas. The Voucher can only be used for standard entrance tickets and cannot be used for priority entrance and/or Fastrack entrance at any Attractions (unless this is expressly stated as part of the Offer). The Voucher is not valid for any combination tickets. The voucher does not entitle Early Ride Time.
The Voucher is not valid for accommodation including but not limited to the LEGOLAND Windsor Resort Hotels - an additional cost applies. Please check each Attraction's website for additional costs.
The Voucher remains the property of Merlin at all times and Merlin reserves the right to take possession of the Voucher at any time. The Voucher must be presented at the Attraction entrance Adult is 16 and over at LEGOLAND Windsor Resort.
Entry is free for guests under 0.9m at the LEGOLAND Windsor Resort.
Visitors under 14 years must be accompanied by a person aged 16 years or over at LEGOLAND Windsor Resort. The Voucher can only be used as stipulated. The Voucher is non-transferable/not for resale. Any purported transfer or sale of the Voucher will render it void. The Voucher is only valid in the United Kingdom. Photocopies will not be accepted. Admission prices are subject to change. The Voucher cannot be used in-conjunction with any other offer or promotion or concession (e.g. senior citizens, family tickets), reward/loyalty program, pre-purchased tickets, Combination tickets, 2 Day Pass, Annual Pass, Reserve & Ride or Fastrack tickets, rail inclusive offers, on secondary ticketed events, hotel events or concerts or for Group, nor with any existing reservation made or ticket booked online, via an App or by phone.
The Attraction reserves the right, in their absolute discretion, to refuse entry and to close and/or alter all or any part of the facilities including closure of rides and/or attractions and removal of figures for technical, operational, health and safety or other reasons where physical access or operation is not safe, practical or physically possible including overcapacity.
Features and/or creatures shown on the Voucher are not necessarily available at every Attraction. Please note that some Attractions operate a chargeable car parking policy including, but not limited to, LEGOLAND Windsor Resort. Vouchers do not affect the price of car parking.
Size, height, weight, age restrictions and medical warnings apply to certain rides and/or attractions. Some rides at the LEGOLAND Windsor Resort will require guests who only just meet the minimum height requirements to be accompanied by a person aged 16 years or over. 
All Attraction information is subject to change; please check the attraction websites below before your visit for the latest information.
For Attraction information please visit LEGOLAND.co.uk ,
Entry into any participating Merlin attraction will be subject to the individual Attraction's terms and conditions of entry, which can be found on the websites listed in paragraph 20
In the event of circumstances outside the reasonable control of the Promoter, or otherwise where fraud, abuse, and/or an error (human or computer) affects or could affect the proper operation of this promotion, and only where circumstances make this unavoidable, the Promoter reserves the right to cancel or amend the promotion or these voucher terms and conditions, at any stage, but will always endeavour to minimize the effect to participants in order to avoid undue disappointment.
If any of these clauses should be determined to be illegal, invalid or otherwise unenforceable then it shall be severed and deleted from these terms and conditions and the remaining clauses shall survive and remain in full force and effect.
These terms and conditions are governed by relevant UK law and you and we agree to only bring legal actions about these terms and conditions in a UK court. We will try to solve any disagreements quickly and efficiently. If you are not happy with the way we deal with any disagreement you and we may agree to refer the matter to arbitration but you and we are not restricted from bringing court proceedings.
The Promoter and its associated agencies and companies will not be liable for any loss (including, without limitation, indirect, special or consequential loss or loss of profits), expense or damage which is suffered or sustained (whether or not arising from any person's negligence) in connection with this promotion or accepting or using the prize/gift, except for any liability which cannot be excluded by law (including personal injury, death and fraud) in which case that liability is limited to the minimum allowable by law.
These terms and conditions and any related disputes are subject to interpretation under the laws of England and Wales, and to the jurisdiction of the courts of England and Wales unless your residential address is in Scotland, when Scottish law applies or in the Republic of Ireland, when Irish law applies.
For enquiries contact the Merlin's careline on 01753 626416 in the UK between 9:00am and 5:00pm, Monday to Friday, excluding Bank Holidays. Promoter: Merlin Attractions Operations Limited (Company No: 06272935 UK office: Link House, 25 West Street, Poole, Dorset, BH15 1LD. Please do not send correspondence to these addresses.
LEGO, the LEGO logo, the Brick and Knob configurations, the Minifigure, DUPLO and LEGOLAND are trademarks of the LEGO Group. ©2022 The LEGO Group.