Both of our Resort Hotels have step free access, multiple lifts are found in each reception area. All restaurants, bars, shops and games rooms are accessible from the lifts. All the hotels have accessible public toilet facilities. The staff are always available at reception should you have any queries or concerns.
Assistance and Guide Dogs - Assistance/guide dogs are welcome in the accommodation but please tell us in advance so we can allocate the most appropriate room for you. Upon arrival, please advise Reception of any additional requirements and they will endeavour to accommodate these where possible.
Wheelchair Hire - A limited number of wheelchairs are available for hire from Guest Services or the Sensory Space on a first come, first served basis. A £20 refundable deposit is required. Wheelchairs are subject to availability so we would suggest that guests who need a wheelchair to travel around the Hotels bring their own for ease and certainty. We are able to charge mobility scooters; please ensure you tell us when you make your reservation so we can accommodate this.
Deaf/Hearing-impaired guests - Portable induction loops which can be used around the accommodation to assist you further are available at our hotel Receptions. Vibrating pagers are available from Receptions to guests who are deaf or hard of hearing. These will be activated in the event of fire alarm activation or other emergency requiring guest evacuation of the hotel.
Special dietary requirements - The Hotel restaurants serve a wide range of top-quality cuisine to suit all palates and menus can be found online. Please inform us when booking your stay at the hotels of any special dietary requirements so that we can make sure that we can provide for your specific needs
Assistance in the event of an emergency - Upon arrival at the accommodation, please make Reception aware of any additional assistance that you may require in the rare event of an emergency at any time throughout your stay. They will ensure that these needs are met in the event of an emergency.
Ride Access Pass - If you are staying in one of our Resort Hotels, please head to the Sensory Space in Heartlake City (opposite the LEGOLAND® Express) to have your Ride Access Pass activated and get set up.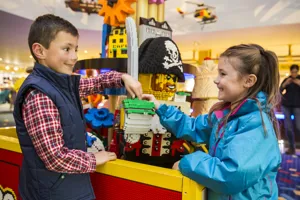 LEGOLAND Resort Hotel & Castle Hotel
Parking
There are designated bays for disabled guests staying at our Resort Hotels in the Hotel Car Park; these are available to Blue Badge holders and are complimentary when staying in the Hotel.
Accessible Rooms
Our accessible rooms in our LEGOLAND Hotel include: 
LEGO Friends
Kingdom Themed
Pirate Themed
Adventure Themed
Our accessible rooms in our LEGOLAND Castle Hotel include:
Each of these rooms has the following facilities:
Double bed, Bunk Beds, Pull alarm cords in both the bathroom and bedroom, Handrails in the bathroom, Widened doorways, Lowered fixtures/fittings
Exact facilities in bathrooms vary depending on room, and so we recommend contacting our team before placing your booking so that we can help choose the room best suited for your needs.
Deaf and hard of hearing guests can collect a device from Reception that will vibrate and light up in the event of a fire alarm activation.
Public Areas
Toilets
There are accessible toilets available in the public area of both Resort Hotels. These have lowered fixtures and fittings, with grab rails and pull alarm cords.
Getting About
Both hotels have multiple lifts which cover all floors of the hotel.
There is step free access from the LEGOLAND Resort Hotel to the LEGOLAND Castle Hotel and into the Theme Park via lifts. It takes about 5 minutes to walk from the Resort Hotel Reception to the Castle Hotel.